Legend of Mana or Seiken Densetsu 4 was never born in Europe. Nevertheless, this game is exceptional and surprising. PlayStation's power associated with Square's genius gave an explosive cocktail which I suggest you to discover.
General info:
Released in Japan in 1999.
Released in United States in 2000.
Never released in Europe.
Several jackets are available for the game. For my part I saw 2 differents but the game remains the same. No guide with the game. Only a small PlayStation instructions booklet.
The intro: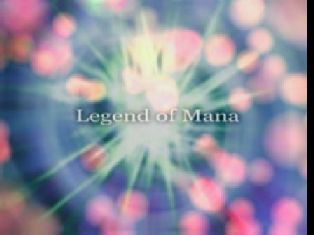 On the intro side, Square took out the heavy artillery. A small presentation film shows us the main characters.
The menu:
The menu as usually very functional but always very beautiful.
The playability:
A very fluid game. Once you begin a fight, you have to go till the end, no escape possible! The life bar very special: it raises quite slowly if you are not attacked! You also have a life bar which indicates you your opponent's PV!
Between every fight, your life bar goes back to 100%. No more candies (except during a fight) and no more resting in inn's.
Graphics:
Graphics are wonderful. Each seems to be a picture as by the wealth and the detail as by the very lively colours.

Gato
Here, the rabbit is your pet! He helps you and it is very well!

Heroine's home
Decorations are so magnificent. Nothing has to be changed! The game is extremely well realized. Every small detail is a small leader of work!
The soundtrack:
Music is wonderful. Here, music style is sweeter than in Secret of Mana and it fits very well with the game. There're still big theme but in a sweeter style. So, the intro starts very slowly then become intensified. When you start a new game, you can see a very nice intro with a magnificent song which will amaze more of one. Here no more of Super Nintendo synth but true songs with a singer (as in Tales of Phantasia) and especially true instruments.
Life duration:
Life duration is very unpredictable. According to the order in which you finish scenarios, you can easily go from the simple to the double. This game has a very good life duration.
Scenario:
Here lies the great originality of the game. There is no defined history and even no defined world. I explain myself. Each time you find objects of precise places, you choose the place where you want to put it on the map. Then, this object is turned into place to which this object relates: in the beginning, you place your mailbox. This will define the place of your home! You are free to build your own world!
On the history side it is the same thing. You choose to go with such or such person and you do what you want. Story modifies during your acts. However, no excentrism either. Demonstration:
Example here where you has just met your clone. It is then that the new scenario begins. You choose if you want to finish this scenario now or later. When a small scenario is finished, you can finish an other one. You have then a screen as that below:
In your menu, you can so see which scenarios you started, those that are ended (marked with a yellow point) but also those that you have missed ( yellow cross):
It is so an unique game in its genre and really an extraordinary game.
Global note:
Game is perfect and deserves a note of 100 %.